Welcome to the Network and Data Security Group (NDSec)
Network and data security is one of the important research areas of the Department of Applied Computer Science at Fulda University of Applied Sciences. Our research group is focusing on several essential topics of network and data security. Below is a list of some of the scientific areas that the research group considers to be of particular interest:
Cryptographic Methods and their Implementation in E-Commerce
Network and Cloud Security
Intrusion Detection and Preventions Systems (IDS and IPS)
Pattern Recognition including Machine Learning Techniques and Knowledge Discovery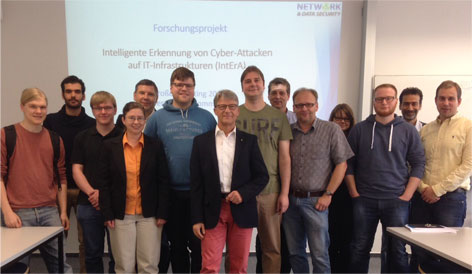 Our research work is focused on both national and EU projects. The latest completed achievement of the NDSec group is the development and implementation of a hybrid and adaptive intrusion detection system within the research project IntErA. In this project we explored several new disciplines, collected new knowledge and achieved excellent scientific results, which could be placed at international conferences or in journals.
last modified: 21.01.2020 08:49